Titanium is a heavy-duty material from which parts for rockets and spacecraft are made. Previously, it was used only in industry, but now they began to make wedding rings and other jewelry from it. This metal has a bewitching beauty and in appearance it is not inferior to the notorious gold, but costs an order of magnitude less. Therefore, for many newlyweds, not gold wedding rings are more preferable, but titanium ones.
ADVANTAGES: WHAT IS TITANIUM PRODUCTS GOOD FOR
The metal has increased strength, its melting point is 1660°C. The titanium surface cannot be scratched or deformed in any other way – it does not leave marks even after laser exposure.
The natural color of the material is pale gray, similar in appearance to silver and white gold.
During anodic oxidation, titanium is able to change its color to blue, black, purple, pink or golden. Anodizing also helps achieve a gradient coloration. Jewelry made of such metal looks unusual and catches the eye with an exotic overflow of shades. There are many reasons why today's youth are leaning towards titanium engagement rings:
Durability – over time, the products do not oxidize, do not scratch, do not darken.
Easy to care for – to maintain the original appearance, it is enough to periodically wash the product. No need for cleaning.
Symbolism – rings symbolize the strength of the union between lovers. A material that easily carries the load of outer space is the best fit for this.
Profitability – titanium jewelry is several times cheaper than gold jewelry. But they look expensive and elegant.
Hypoallergenic – the material does not cause allergic reactions, although this happens with other metals.
Beauty – even a natural-colored, unfinished surface looks beautiful, especially when it reflects the sun's rays.
Variety – matte or glossy, smooth or grooved, engraved or not, colored or silver.
Many titanium jewelry is distinguished by its self-sufficient beauty, which does not need to be supplemented with anything. Some products are decorated with decorative stones and inserts from other materials. There are also models designed in a minimalist style. They symbolize modesty and simplicity. The advantage of such a ring is its good compatibility with other elements of the image – an inconspicuous titanium bezel harmoniously complements clothes of all styles and goes well with any accessories. When choosing wedding rings, this criterion often plays a decisive role.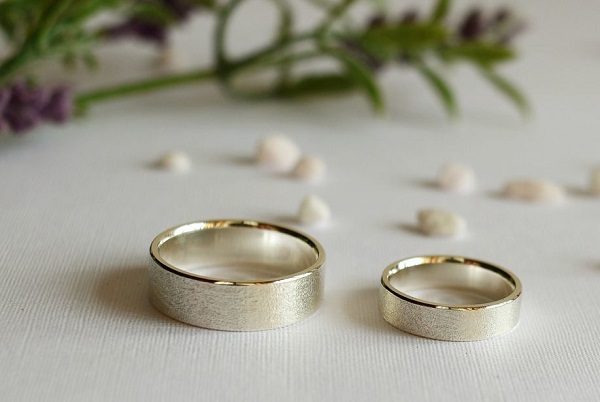 DISADVANTAGES OF TITANIUM RINGS, WHO SHOULD NOT WEAR THEM
The main advantage of titanium is its main disadvantage. Due to the high strength of products made of this metal, they are practically not amenable to adjustment. If you choose the wrong size, then after expanding or narrowing the diameter will not work. Moreover, when trying to remove a stuck ring from a finger, the usual life hacks will not work. You can wash your hand until you turn blue or lubricate it with oil – the bezel will remain in place. In this case, there are only two ways to solve the problem, and both are not very successful. The first is to saw the jewelry right on the hand. It is impossible to do this at home, you need special equipment. The product after such a procedure will be irretrievably damaged. The second is to wait until the fingers "lose weight". You can remove excess fluid with medication, with the help of tablets. Puffiness will subside and this will help you get out of the "titanium trap". The "do nothing" option is better not to consider. Ignoring the problem will lead to squeezing of soft tissues and disruption of blood flow, which may cause inflammation. There are no other shortcomings in the "rocket" metal. Yes, and this one is not as serious as it seems. To avoid problems with a titanium engagement ring, it is enough to show a little attention – before buying, try on at different times of the day and periodically check the size. If someday the ring becomes small – it does not matter, now a new tradition has appeared: to give each other rings for a wedding anniversary.